Every month, we will feature a book for our Share and Tell event. Share and Tell readers are limited to the first ten newsletter subscribers who email us and commit to reading the book and to considering posting reviews on Amazon and Goodreads. They must also answer a few questions about the book and participate in the end of month Facebook get together with the author. This get together is where readers get to know the author and learn the story behind the story.
Share and Tell is first come, first serve. The first ten readers to email us and commit to the terms will receive a complimentary copy of the current month's book.
Newsletter subscribers may email us at scarsdale@scarsdalepublishing.com with the subject heading (current month) Share and Tell.
If you are not already an email subscriber, join our newsletter HERE and keep up on all our great releases and news.
Whispers of a Killer by Jen Haeger
"We the jury find the defendant, Rachel Iris Chester, guilty." With those words, Sylvia Harbinger's life as an NYPD detective is over. Sylvia is done with serial killers, done with therapy, and done with a New York City now rife with WHISPs—the creepy, grey shadows of her nightmares. She and husband Ben have a deal. She retires and they both move to Montana to escape the WHISP phenomenon. It is the only way to save their marriage after the Chester case, even if it leaves their WHISP-affected son, Lincoln, behind. Then the phone rings. Chester's in jail, yet there's been a copycat murder, and Sylvia can't let the case go. If she missed something the first time, this new blood is on her hands. Ben gives her a month to work the case, but can their marriage survive that long? And as Sylvia digs deeper into the depths of the source of her phobia, how long will her sanity survive?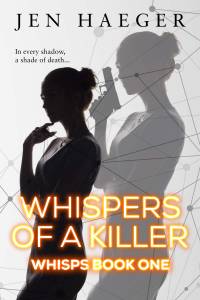 The Moon Above by Brett Davis
In memory of Jean Marcel Nicolas/Johnny Nicholas, a Haitian in the Dora camp who pretended to be a U.S. Airman. This tale is what his life might have been like had that been true. The tale of a Tuskegee Airman. Johnny Nicholas's dream is to fly airplanes—an impossible dream for a Black man in 1930s America. After WWII started, the Army launches an experimental program to train Black pilots in Tuskegee, Alabama. Against this parents' wishes, Johnny boards a train headed to the segregated South. But even the rising death toll of World War II may not be enough incentive for the government to allow Black pilots to fly bombers. As Johnny grows convinced that the war will end before he sees a battlefield, the Tuskegee airmen are ordered to the European front. In Italy, reality quickly dispels his daydream fantasies of dogfights and glory, and one unshakeable Jerry on his bomber's tail paves the way to a hell that few men escape and a mountain of bones that reach to the moon.