[trx_tabs style="1″ initial="1″ scroll="no" top="inherit" bottom="inherit" left="inherit" right="inherit"]
[trx_tab title="eBook"][trx_button type="square" style="filled" size="small" color="#FFFFFF" bg_color="#8F3E80″ align="center" link="https://www.amazon.com/Ladies-Always-Shoot-Summer-Hanford-ebook/dp/B0763Z4WX9/" popup="no" top="inherit" bottom="inherit" left="inherit" right="inherit"]Buy Now![/trx_button]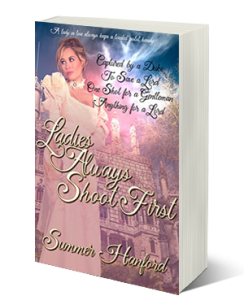 [/trx_tab]
[trx_tab title="Audio Book"][trx_button type="square" style="filled" size="small" color="#FFFFFF" bg_color="#8F3E80″ align="center" link="https://www.downpour.com/ladies-always-shoot-first-vol-1?sp=247878″ popup="no" top="inherit" bottom="inherit" left="inherit" right="inherit"]Buy Now on Downpour![/trx_button]
[trx_button type="square" style="filled" size="small" color="#FFFFFF" bg_color="#8F3E80″ align="center" link="https://itunes.apple.com/us/audiobook/ladies-always-shoot-first-unabridged/id1361695999″ popup="no" top="inherit" bottom="inherit" left="inherit" right="inherit"]Buy Now on iTunes![/trx_button]
[trx_button type="square" style="filled" size="small" color="#FFFFFF" bg_color="#8F3E80″ align="center" link="https://www.amazon.com/Ladies-Always-Shoot-First/dp/B07BHV74MB/" popup="no" top="inherit" bottom="inherit" left="inherit" right="inherit"]Buy Now on Amazon![/trx_button]
[trx_button type="square" style="filled" size="small" color="#FFFFFF" bg_color="#8F3E80″ align="center" link="https://www.audible.com/pd/Romance/Ladies-Always-Shoot-First-Audiobook/B07BHVH6X4″ popup="no" top="inherit" bottom="inherit" left="inherit" right="inherit"]Buy Now on Audible![/trx_button]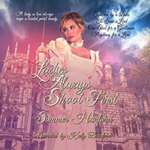 [/trx_tab]
[/trx_tabs]
LADIES ALWAYS SHOOT FIRST
A lady in love keeps a loaded pistol.
CAPTURED BY A DUKE
Freedom is within her grasp… if she truly desires escape.
When Lady Annabel sets out to introduce herself to her fiancé the day before their wedding, she doesn't count on being waylaid by highwaymen. Kidnapped, but not without recourse, Annabel shoots her abductor and escapes. Too late, she discovers she might not want her freedom.
TO SAVE A LORD 
A woman in love will risk anything for true love's kiss.
Kitty Brightly's reputation is in tatters, and not even her friend the Duchess of Southwood's influence is enough to invite suitors. When, at long last, one appears where Kitty least expects him, her boldness threatens to ruin everything. Yet, that same boldness might be the one thing that saves them both.
ONE SHOT FOR A GENTLEMEN
What's a woman to do when love turns into double the trouble? 
After a night of romance and a declaration of love, Dalilah Cartwell is devastated to learn that her best friend, Lydia, is engaged to the same gentleman who wooed her. Dissuading their brothers' attempts to defend their honor, the two meet the rogue at dawn, only to discover that trouble comes in twos.
ANYTHING FOR A LORD
Some mysteries are better left unsolved.
Free, at last, after the death of her controlling father, Victoria Kirkland must immediately find a husband or risk a forced marriage to her cousin. When he tries to compromise her, she turns to a brave, handsome stranger for help. Discovering a love so strong she doesn't care to ask questions, she eagerly weds her savior, but soon learns that some mysteries are better off solved before you say I do.
---
---